City Beach views of Brighton Beach and Scarborough Beach.

View from Brighton Beach to Scarborough Beach with hotel apartment accommodation right of photo. Scarboro Surf Life Saving Club's volunteer watchful eye has been the best thing to happen at Brighton Beach.


Panoramic photo of Scarborough Beach Sunset Coast swimmers at sunset, 21 March 04


© 163kb print quality Scarborough Beach (foreground) & Brighton Beach by Brighton Beach volunteer photo journalist.

View: South from Port Fremantle towards the Scarborough CBD northward.
This VERY wide photo takes approximately 40 seconds to load.
Left mouse click on photo to pan either way at your own rate.
Try buttons to zoom. This photo will improve soon after re-photographing.



Jumping high with rubber at Scarborough Beach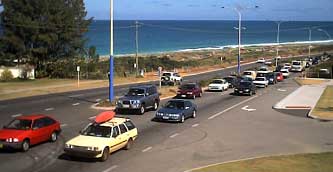 Morning Traffic Jam
Burning boat disasters happen in paradise.
Photo by Joan Rando
www.scarboro.info Popularity Want to be a sponsor ? Email or call 9243 4215