BEAUTIFUL BODY CONTEST
SCARBOROUGH BEACH
Perth Western Australia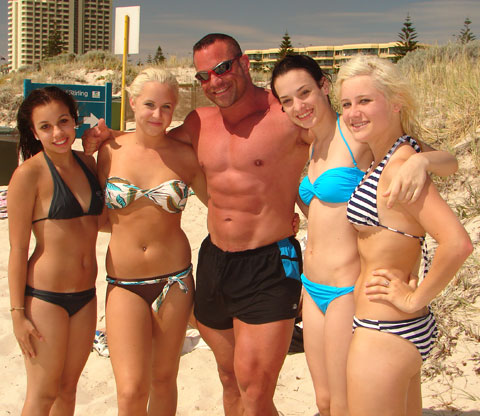 Mr Australia 2000 with beautiful local beach babes.
Open to males and females. To enter contact us to send an image of beautiful body or have your photo taken free of charge by our photographer; who can photograph you within 10 minutes of your mobile call from the beach. Images should be no larger than 99 DPI, jpg format, 199 x 222 pixels. Images will not be published without verification so be sure to include your postal address and or telephone number. Your confidential information will not be given to anyone except sponsors who may wish to contact you for further endorsements of their products. Standards of decency apply and need to be at least of the same standard as seen on the beach. Images will be deleted upon request of the entrant, their spouse, or parents. Winners will receive prizes from our sponsors at a date to be set in early March so get you entries in soon.
photos of Beautiful Scarborough Beach Bodies ONLY please, can be posted at the Beautiful Bodies Topic of the Scarborough Beach Bulletin Board. Body photos without a Scarborough background will be deleted. Once we have ten entrants an online poll will be conducted and the winners will receive prizes
| | |
| --- | --- |
| Bikini carwash Scarborough | |