Perth's Sunset Coast beach photos featuring Scarborough Beach, Perth's finest beach at the heart of the SunSet Coast on the eastcoast shores of the Indian Ocean, Western Australia. The Sunset coast has some of the world's best beach holiday accommodation. The Sunset Coast extends form Fremantle's Port beach in the south to Hillarys Harbour beach marina in the north. Sunset Coast's hinterland has lakes, the Swan River, golf courses, shopping centres, good public transport, and services such as the best of
Perth's resort accommodation.
Vote for your favourite Perth Beach at www.perthbeach.com

Sunset photos are subject to copyright. Not-for-profit organisations have permission to use these sunset photos on condition of a clear > 10 points font of "© sunsetcoast.biz" on the sunset coast photo.



Beachfront apartments Sunset Coast
Branding SunSet Coast
The Sunset Coast is the much better new brand of what was formerly known as "Perth's northern suburbs". Northern! Yuk! "The Gold Cost" is a fine example of tourism marketing / brand marketing. With well planned development and marketing the Sunset Coast will be more attractive.
Spectacular sunsets are seen over the Indian Ocean every month of the year. The sunset photos on this page were taken by Ben with a digital video camera in midwinter. Some of the finest sunny, calm weather on Perth's Sunset Coast can be experienced in our southern hemisphere winter.
This is when flights and accommodation along the Sunset Coast are at their lowest and beaches are least used except by surfers.
| | |
| --- | --- |
| Surfing photos. | Indian Ocean Sunset |
| Sunset at Scarborough Beach hub of the Sunset Coast. | Sunset on Scarborough beach front accommodation |
| Sunset Coast sailing | Moon rise at SunSet |
| Scarborough & Trigg Beaches | Sunrise on Sunset Coast |
Easy access to the Sunset Coast of Perth is via the West Coast Highway. It's a scenic stress-free drive, with plenty of cafes, surf beaches, shaded lawns like those at Cottesloe Beach and small sheltered beaches such as Granny's Pool of the northern Sunset Coast. Most beaches along the Sunset Coast are patrolled by lifeguards in summer. Free public barbeques and child play structures are located at most Sunset Coast beaches. There are no private beaches. All beaches are open to the public all year round, free of charge. Local governments along the Sunset Coast do a good job of maintaining and cleaning beaches and facilities.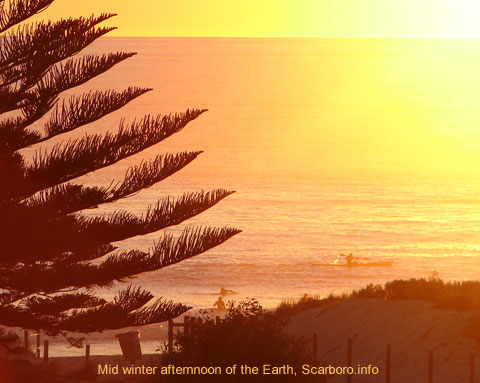 Sunset at Brighton Beach
Photos on this page are subject to copyright. For personal or not-for-profit use you are granted reprint rights / permission by the photographer to download photos of Sunset Coast of Perth Western Australia, save, print or email them/
Some of the best attraction of the Sunset Coast are the beautiful Perth people that love this coastline. Visiting US sailors think so. I guess about a quarter of beach goers are foreign. Many times I've been asked to snap pictures of happy, inspired visitors. Their genuine happiness at being on a zero, pollution free SunSet Coast beach is infectious. A nice sunset brings visitors and locals out into the street or on the beach in awe of the evolving spectacular multicolour display. Hope you can join us to see our spectacular sunsets over the Indian Ocean.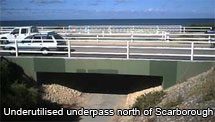 Scarborough is a hub of the Sunset Coast without a safe pedestrian crossing.
If you want to preview some of the sunsets, best beaches, surf, beautiful people or
accommodation before you visit the SunSet Coast, this CD is a MUST.
All disks airmailed to the USA will be in NTSC unless otherwise specified.
Locate Accommodation on Sunset Coast map.
Zoom to street level by dragging a square of the map area of interest.


In 2017 Google shut down Panoramio and converted / archived photos of the Sunset Coast, so in July I openned up ther resulting Sunset Coast Google album for anyone to upload photos of the Sunset Coast Perth
POB 334 Scarborough, 6922
Hub of the Sunset Coast, Perth, Western Australia
You can also post photos and videos here
Google+ Perth Open Community
and on
World's Best Beaches
Accommodation Scarborough Beach

Top Sunset Coast