Perth's Sunset Coast beach photos featuring Scarborough Beach have some of the beach at Perth on the east coast shores of the Indian Ocean of Western Australia.
The Sunset coast has some of the world's best beach holiday accommodation. The Sunset Coast extends form Fremantle's Port beach in the south to Hillarys Harbour beach marina in the north. The Sunset Coast's hinterland has lakes, the Swan River, golf courses, shopping centres, good public transport, and services such as the best of Perth's resort hotel accommodation.
Vote for your favourite Perth Beach at perthbeach.com

THINGS TO DO ON THE SUNSET COAST
List of 10 of the best things to do on the Sunset Coast.
Going to the beach is a must do thing to do on the Sunset Coast. There are all sorts of watersports, dining and other activities to do on the Sunset Coast

Because it's mostly flat and scenic, skateboarding or cycling along the Sunset Coast cycle paths is a good family thing to do. Cycling around Lake Joodalup and other lakes is good too.

Line fishing is permitted from boats and beaches of the Sunset Coast even in the Marmion Marine Park. Spear fishing there is prohibited.

Diving/snorkelling is spectacular. Out on the 3 mile reef, on a clear day it's as good as anywhere in the world.

Sailing along the coast or to Rottnest Island or Little Island near Hillary Boat Harbour.


Explore caves in the Yanchep national park.

Night clubbing is popular at Scarborough and bars on the Sunset Coast.

Go to a weekend market.

Go to an event such as a concert, or sporting event.
Sunset photos are subject to copyright. Not-for-profit organisations have permission to use these sunset photos on condition of a clear > 10 points font of "© sunsetcoast.biz" on the sunset coast photo.



Beachfront apartments Sunset Coast
BRANDING PERTH'S SUNSET COAST
The Sunset Coast is the much better new brand of what was formerly known as "Perth's northern suburbs". Northern! Yuk! THE "Gold Cost" is a good example of tourism marketing / brand marketing. With well planned development and marketing the Sunset Coast will be more attractive.
Spectacular sunsets are seen over the Indian Ocean every month of the year. The sunset photos on this page were taken by Ben with a digital video camera in midwinter. Some of the finest sunny, calm weather on Perth's Sunset Coast can be experienced in our southern hemisphere winter.
This is when flights and accommodation along the Sunset Coast are at their lowest and beaches are least used except by surfers.
TRAVEL PERTH TO SUNSET COAST
Easy access to the Sunset Coast of Perth is via the West Coast Highway. It's a scenic stress-free drive, with plenty of cafes, surf beaches, shaded lawns like those at Cottesloe Beach and small sheltered beaches such as Metham's Pool of the northern Sunset Coast.
SUNSET COAST FACILITIES/SERVICES/TOURIST ATTRACTIONS
Most beaches along the Sunset Coast are patrolled by red and yellow uniformed, volunteer lifesavers from surf clubs on the Sunset coast all through summer. Cities and councils of the Sunset coast pay for blue uniform wearing lifeguards to patrol beaches of the coast all year round. They drive 4WDs on the beach. Good cafes and restaurant are on the Sunset Coast.
Good views of the Sunset Coast are from the top of:
The lighthouse at Hillarys Boat Harbour and half million dollar tower at Whitfords near the harbour.
Mt Flora view point.

Tall hotels on the Sunset Coast.

Free public barbeques and child play structures are located at most Sunset Coast beaches. There are no private beaches in Perth. All beaches are open to the public all year round. Free of charge. Local governments along the Sunset Coast do a good job of maintaining and cleaning beaches and facilities.
The Scarborough Beach Pool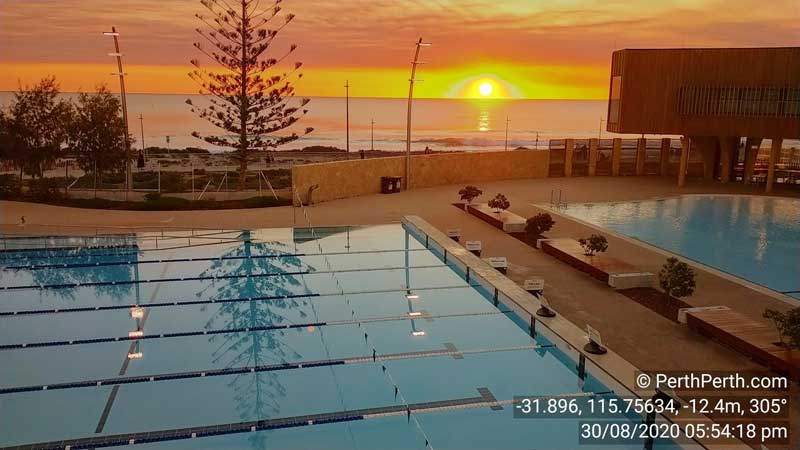 One of a few heated public swimming pools on the Sunset Coast.
SHARKS
Aerial shark spotting plans and helicopters patrol up and down the Sunset Coast in summer. Drones are also used to scout for sharks. Check the government's SharkSmart website in great white season months of August, September, October, November.
SUNSET COAST ENVIRONMENT/CLIMATE
The coast has a Mediterranean climate. The first part of summer has a daily strong sea breeze starting about 10am so get to the beach in the morning before the sea breeze. Late summer is hotter and more humid with less cooking from the sea breeze known as the Fremantle Doctor. Calm balmy Autumn is my favourite month. Most of the time the Indian Ocean is crystal clear. Just under the water, a few metres from beaches north of Trigg Island, the world is alive in contrast to the brown landscape after summer. Marine life abounds in the Marmion marine park. Snorkelling when turbidity is low, on calm ocean days with light offshore winds is a must do experience on the Sunset Coast.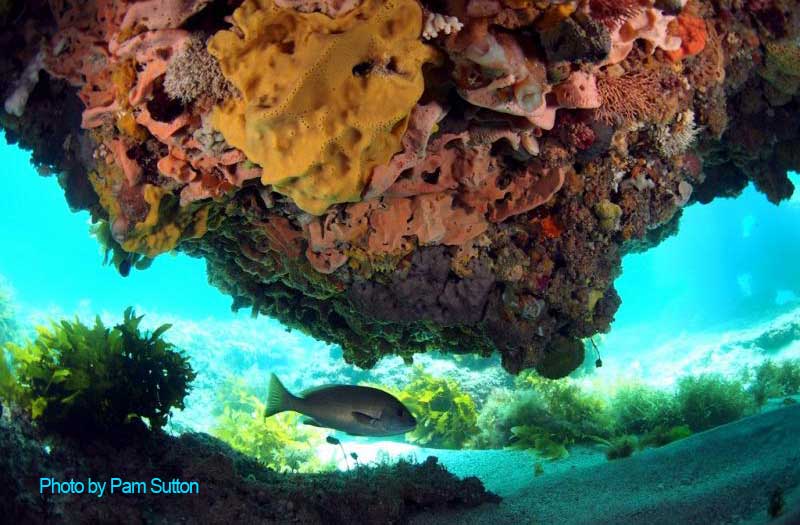 Environmental volunteers like the Stirling Natural Environment Coastcare group work tirelessly to weed and grow native plants on beach dunes of the Sunset Coast.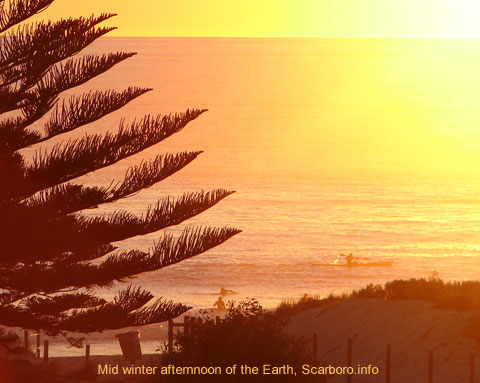 Sunset at Brighton Beach
Photos on this page are subject to copyright. For personal or not-for-profit use you are granted reprint rights / permission by the photographer to download photos of Sunset Coast of Perth Western Australia, save, print or email them.
Some of the best attraction of the Sunset Coast are the beautiful Perth people that love this coastline. Visiting US sailors think so. I guess about a quarter of beach goers are foreign. Many times I've been asked to snap pictures of happy, inspired visitors. Their genuine happiness at being on a pristine, pollution free SunSet Coast beach is infectious. A nice sunset brings visitors and locals out onto the street or on the beach in awe of the evolving spectacular multicolour display. Hope you can join us to see our spectacular sunsets over the Indian Ocean.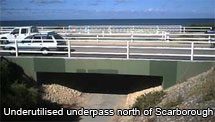 Scarborough is a hub of the Sunset Coast without a safe pedestrian crossing at the busy intersection of West Coast Highway and Scarborough Beach Road.
If you want to preview some of the sunsets, best beaches, surf, beautiful people or
accommodation before you visit the SunSet Coast, watch Youtube videos of the Sunset Coast
Locate Accommodation on Sunset Coast map.
FULL DAY TRIP OF THE SUNSET COAST
I attended a tourism forum today which identified the many great tourist attractions of the Sunset coast. Even if you start your day trip tour of the Sunset Coast you wont see it all in one day. Our table suggested starting at Yanchep exploring the caves and swimming in the Yanchep lagoon. Then swim at Mullaloo Beach. Explore Hillarys Boat Harbour restaurants, shops, entertainment, marina, clubs etc. Stop at Mettam's Pool and or Trigg Beach for a swim/surf. Lunch at Scarborough or Cottesloe beach. Back to Scarborough to watch an Indian Ocean Sunset from Sunset Hill. Then party at the night clubs at Scarborough Beach after a restaurant meal there.
HOW COULD THE SUNSET COAST BE BETTER?
Investment in more and better brand marketing. For example renaming the West Coast Highway as the Sunset Coast Highway.
Renaming a train station as the Sunset Coast train station. Renaming Osborne Park Hospital as the Sunset Coast Hospital. etc.
Improve accessibility to popular beaches like Scarborough Beach:

Reinstate the Sunset Coast bus service, at least for Summer and Autumn.
With infrastructure development why not build a safe pedestrian crossing under or over West Coast Highway at Scarborough Beach? It would open expansion of the vibrant Scarborough Beach scene eastward.
More and safer bike paths on the Sunset Coast.
A summer shuttle bus so that visitors who can't find a car parking spot near the beach, can park and ride.
A tram from Glendalough Train station (should be named Scarborough Beach Train Station) to Scarborough Beach.
More boat ramps and boat access to the Sunset Coast. Eg next to Trigg Island.

A jetty like Huntington Pier at Brighton Beach.
Artificial surf reefs. Eg fill in the Blue Hole with rocks or pump surplus sand of the Trigg boat ramp into the Blue Hole. That's how they make SuperBank which makes Gold Coast surfing from Snapper Rocks to Kirra Beach one of the world's longest surf breaks.
A Sunset Coast casino would add to high roller tourist attractions on the Sunset Coast.
Better care for people and their Sunset Coast communities:

Education:

Building a new Scarborough High School would take pressure off Churchlands High School.
Better access to vocational training. Currently most citizens of the Sunset Coast have to travel long distances for vocational training.

More shade on/near the beach from trees. Cottesloe Beach has big pine trees. Tree research and nurturing to enable trees to grow closer to the beach is do-able.
Sunset Coast Google Photo Album
Marketing for Businesses of the Sunset Coast
Accommodation Scarborough Beach

Top Sunset Coast