Brighton Beach is the ideal Indian Ocean vacation destination to relax and meet the beautiful people of Perth who know Brighton beach, a locality of the Perth suburb of Scarborough and just south of Scarborough Beach, has the best white sand surf beach in Australia. From the many nearby fine hotels, backpacking, and apartment accommodation at Brighton Beach, you can:
swim, surf, fish

, sail, people-watch, skate, cycle, windsurf,

kitesurfing, shop, dine, travel, study, night clubbing

clubbing, interact with the animals, get fit, hold a conference, explore, or because the beach is so long and vast, drop out, relax and sun bake in a peaceful dune hollow away from the crowd. Brighton beach has it all in the one place.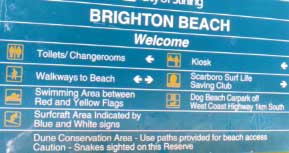 Beaches within walking distance: Trigg Beach 1.6km north, with its island, rock pools and South of Brighton Beach you can start walking pets to City Beach. There is plenty of car parking and public buses #400 and 408 run every 8 minutes in summer from just west of the Perth train station. Beach and water conditions are usually best in the morning. Sunny winter (May-Nov) days are usually calm and beautiful. If you're not into wind or kite surfing you'll be thrilled by the speed and stunts of Perth's marine
windsurfing and kite surfing centre at Brighton Beach in the afternoons when the sea breeze gets blowing in summer.

Australian Surf Life Saving Championship Competitions at Brighton Beach near the Scarboro Surf Life Saving Club house. www.scarboro.com.au All national rowing boat competitions were held at Brighton Beach 20007 - 20'09. Contest photos at Brighton Beach

Sunset at Brighton Beach

Brighton Beach Hotel


Brighton Beach Low Tide


Western Australian Surf Life Saving competitions at Brighton Beach

Photo of Brighton Beach by Brighton Beach volunteer photo journalist.

Brighter Brighton Beach

Beach Yoga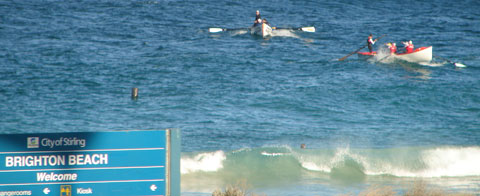 Surf Life Saving Boats at Brighton Beach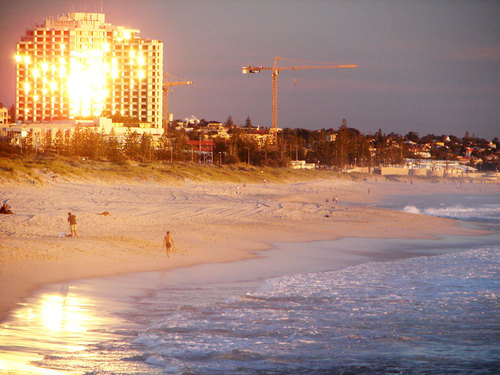 Photo of large hotel near Brighton Beach


Hotel apartments near Brighton Beach

State Surf Rescue Boat competition at Brighton Beach

Controversial, high-rise property development


Bodyboarder tubed near laying of new Brighton Beach drain.


Western Australian Mounted Police at Lions Grove Brighton Beach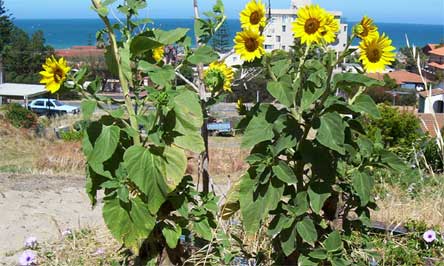 Sunflowers & Morning Glory growing wild, mid summer on a vacant Brighton Beach
hill top block at Hastings Street.
Natural Environment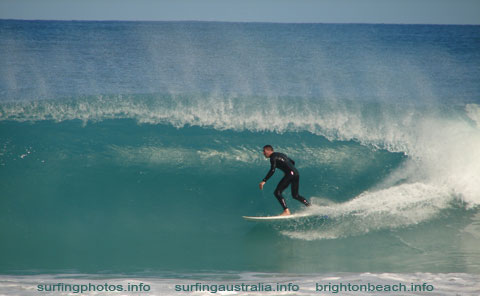 Surfing Photo Taken At Brighton Beach

Brighton beach and Scarborough Beaches are situated at the hub of the SunSet Coast on the east coast of the Indian Ocean This gives us the best sunsets in Australia.
Surf carnivals are frequent events at Brighton beach.
One of several playgrounds just behind the beach dunes. Free gas barbecues,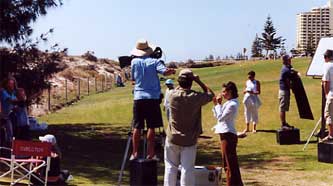 facilities anddservices are only a few metres away. At night rabbits hop out of these dunes to feed on the lush lawn. Feb'00 I sighted two foxes by the bbq near the Brighton Beach kiosk . Bob tail goannas frequent dune paths. Fishing from the beach is excellent as is wave shape when winter storms drive up sand banks. An old 1930's map shows a planned jetty at Brighton Beach (just south of the Scarborough beach drain) but development takes time to happen here..
Above: Scarborough Lions Grove, Public Park, Brighton Beach.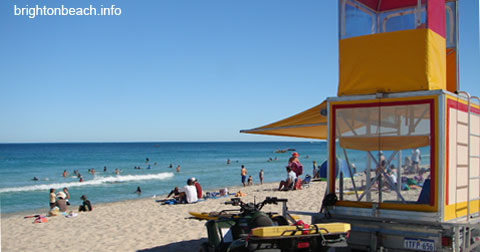 Surf Live Saving
---
Endeavour sailing past Brighton Beach to Fremantle where she was built.
Look closely - Hundreds swam by Brighton Beach in annual swimming event.


Packed Brighton Beach car park in Autumn.
Even in April, days hit 34O Celsius


Karrinyup shopping centre 6km from Brighton beach.


Luna Shopping Centre near Brighton Beach was an amusement
park where I used to play.
This Australian Surf movie features the largest mid-winter surf at Brighton Beach, Scarborough Beach and Trigg Point.

Secure US15 Payment inc delivery
Brighton Beach is Perth's wave KiteSurfing mecca.
| | |
| --- | --- |
| No swimming. These signs are sometimes put up by the SSLSC when occasional rips (undercurrents) are active. SSLSC volunteer life savers patrol between the yellow and red flags. | |
Click here to make Brighton Beach your default homepage

Brighton Beach Popularity Ranking
Would you like to sponsor a page page for less than $1 per day?



Kitesurfing


View from Brighton Beach to Scarborough Beach with hotel apartment accommodation right of photo.
Scarboro Surf Life Saving Club's volunteer watchful eye has been the best thing to happen at Brighton Beach.

Photo of Brighton Beach Australia Day, taken from Scarborough Beach