Scarborough Beach has the best white sand surf beach in the world. This Perth beach is the ideal Indian Ocean vacation destination to relax and meet the beautiful people of Perth who know Scarborough beach is the best beach in Western Australia. Your beach accommodation Perth at Scarborough Beach offers many nearby fine Scarborough hotel rooms accommodation, not so many self-contained apartments and cheap Perth accommodation at beachside backpackers.
THINGS TO DO AT SCARBOROUGH BEACH.
You can swim, surf, skate, fish

, people-watch,shoot basketball hoops on the beachfront half-court, cycle, windsurf, sail, kitesurf, shop, dine at good restaurants, travel, study, go night clubbing, interact with the animals, get fit, hold a conference, use the skate bowel, explore, or because the beach is so long and vast, drop out, relax and sun bake in a peaceful Perth beach dune hollow away from the crowd.
---


---
Scarborough beach has it all in the one place.

Beaches within walking distance of Scarborough Beach: Trigg Beach 1.4km north with its island and rock pools and Brighton Beach to the south where topless nude beach babes suntan. South of Brighton Beach you can start walking pets to Floreat Beach. At Scarborough is plenty of car parking. Public buses #400 and 408 run every 8 minutes in summer just west of the Perth train station. Beach and water conditions are usually best in the morning. Sunny winter (May-Nov) days are usually calm and beautiful. If you're not into wind surfing yourself, you'll be thrilled by the speed and stunts of Perth's marine windsurfing and kite surfing centre in the afternoons when the sea breeze gets blowing.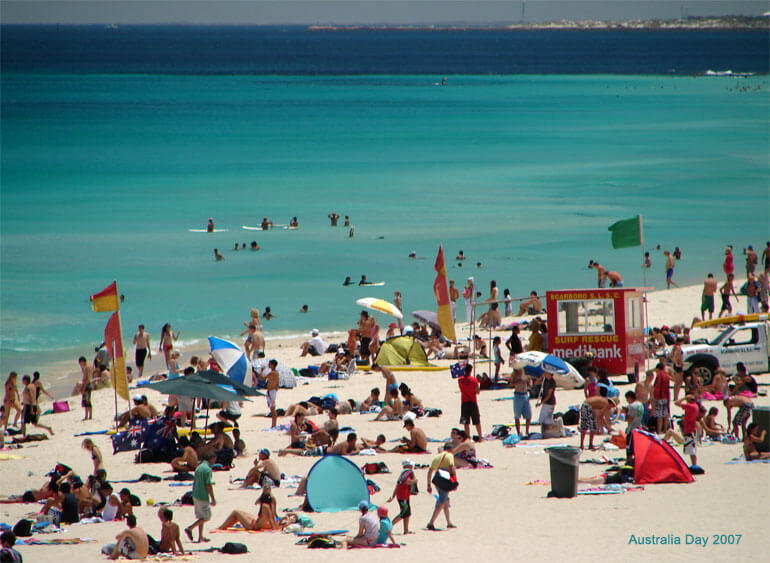 View from Brighton Beach to Scarborough Beach, Trigg Beach and distant tower near Hillarys Yacht Club with hotel apartment accommodation of Scarborough Beach right of photo. Scarboro Surf Life Saving Club's volunteer watchful eye has been the best thing to happen at Brighton Beach. City of Stirling Senior Beach inspector 0417188286 for lost property etc.
Natural beach environment



Australian Rubber Inflatable Boat Championships at Scarborough Beach in which Scarboro Surf Life Saving Club got first place in many events.

Indian Ocean Sunset
View from Scarborough Beach past City Beach to Fremantle Harbour
Hotel accommodation near Scarborough Beach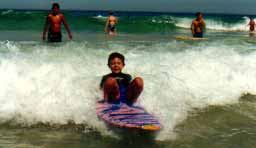 2 types of surf:
Safer inshore for children.
Sand bar surf in the background.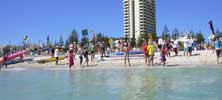 WA Surf Life Saving Championships at Scarborough in front of Scarboro Surf Life Saving Club club.


Yacht from near
Scarborough England
Bodyboarder tubed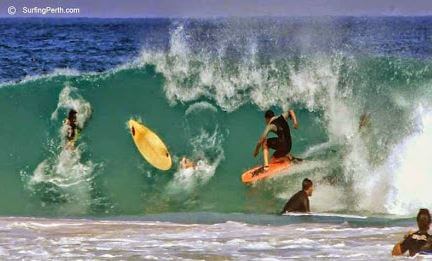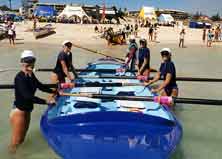 State Surf Rescue Boat competition at Scarborough Beach.
Map of Scarborough Beach Area

Scarborough beach is situated at the hub of the
SunSet Coast on the east coast of the Indian Ocean.

Getting to Scarborough from Perth Airports Perth Map

Snake Pit rock'n roll revisited beach culture

Scarborough by night. Great pubs, clubs, dining, dancing and entertainment.
Good impromptu vocal orchestra entertained children at Christmas Carols by te Beach

Endeavour sailed by Scarborough Beach to Fremantle where she was built. Look closely - Hundreds swam by in annual swimming event.


No swimming. These signs are sometimes put up by the SSLSC when occasional rips (undercurrents) are active. SSLSC volunteer life savers patrol between the yellow and red flags.
Mounted police and night clubers.


Sunset Hill Scarborough Beach


Surfing Scarborough

Contacio Surfwear Scarborough

Surf carnivals are frequent events at Scarborough beach.


Scarboro surf boat race team at Aussies Surf Life Saving Championships, Scarborough Beach



Police were at the concert in front of the clock tower.

View from the post office of part of the CBD at the corner
of Scarborough Beach Road (SBR) & West Coast Highway (WCH)

CBD corner of SBR and WCH. Luna was an amusement
park where I used to play. Now a shopping centre.


Surf Life Saving competitions
as viewed from
Hotel Rendezvous the biggest hotel at Scarborough.